History
Romania (/roʊˈmeɪniə/ (About this soundlisten) ro-MAY-nee-ə; Romanian: România [romɨˈni.a] (About this soundlisten)) is a country located at the crossroads of Central, Eastern, and Southeastern Europe. It shares land borders with Bulgaria to the south, Ukraine to the north, Hungary to the west, Serbia to the southwest, and Moldova to the east and has its opening to the Black Sea. It has a predominantly temperate-continental climate. With a total area of 238,397 square kilometres (92,046 square miles), Romania is the 12th-largest country in Europe and the 7th most populous member state of the European Union, having approximately 20 million inhabitants. Its capital and largest city is Bucharest. Other major urban areas include: Cluj-Napoca, Timișoara, Iași, Constanța, Craiova, Brașov, and Galați.
The River Danube, Europe's second-longest river, rises in Germany's Black Forest and flows in a generally southeasterly direction for 2,857 km (1,775 mi), coursing through ten countries before emptying into Romania's Danube Delta. The Carpathian Mountains, which cross Romania from the north to the southwest, include Moldoveanu Peak, at an altitude of 2,544 m (8,346 ft).
Modern Romania was formed in 1859 through a personal union of the Danubian Principalities of Moldavia and Wallachia. The new state, officially named Romania since 1866, gained independence from the Ottoman Empire in 1877. Following World War I, after declaring its neutrality in 1914, Romania fought on the side of the Allied Powers beginning in 1916. Afterwards Bukovina, Bessarabia, Transylvania as well as parts of Banat, Crișana, and Maramureș became part of the sovereign Kingdom of Romania. In June–August 1940, as a consequence of the Molotov–Ribbentrop Pact and Second Vienna Award, Romania was compelled to cede Bessarabia and Northern Bukovina to the Soviet Union, and Northern Transylvania to Hungary. In November 1940, Romania signed the Tripartite Pact and, consequently, in June 1941 entered World War II on the Axis side, fighting against the Soviet Union until August 1944, when it joined the Allies and recovered Northern Transylvania. Following the war, under the occupation of the Red Army's forces, Romania became a socialist republic and a member of the Warsaw Pact. After the 1989 Revolution, Romania began a transition towards democracy and a market economy.
Romania ranks 52nd in the Human Development Index, and is a developing country with a high-income economy. It has the world's 62nd largest economy by nominal GDP, with an annual economic growth rate of 3.5% as of 2020. Following rapid economic growth in the early 2000s, Romania has an economy based predominantly on services and is a producer and net exporter of machines and electric energy, featuring companies like Automobile Dacia and OMV Petrom. It has been a member of the United Nations since 1955, part of NATO since 2004, and part of the European Union since 2007. An overwhelming majority of the population identifies as ethnic Romanian and Eastern Orthodox Christian and are native speakers of Romanian, a Romance language.
Languages
The official language is Romanian, a Romance language (the most widely spoken of the Eastern Romance branch), which presents a consistent degree of similarity to Aromanian, Megleno-Romanian, and Istro-Romanian, but shares many features equally with the rest of the Western Romance languages, specifically Italian, French, Spanish, Portuguese, and Catalan. The Romanian alphabet contains the same 26 letters of the standard Latin alphabet, as well as five additional ones (namely 'ă','â','î','ț', and 'ș'), totaling 31.
Romanian is spoken as a first language by approximately 90% of the entire population, while Hungarian and Vlax Romani are spoken by 6.2% and 1.2% of the population, respectively. There are also approximately 50,000 native speakers of Ukrainian (concentrated in some compact regions, near the border where they form local majorities), 25,000 native speakers of German, and 32,000 native speakers of Turkish living in Romania.
According to the Constitution, local councils ensure linguistic rights to all minorities, with localities with ethnic minorities of over 20%, that minority's language can be used in the public administration, justice system, and education. Foreign citizens and stateless persons who live in Romania have access to justice and education in their own language.English and French are the main foreign languages taught in schools. In 2010, the Organisation internationale de la Francophonie identified 4,756,100 French speakers in the country. According to the 2012 Eurobarometer, English is spoken by 31% of Romanians, French is spoken by 17%, as well as Italian and German, each by 7%.
Religion
Romania is a secular state and has no state religion. An overwhelming majority of the population identify themselves as Christians. At the country's 2011 census, 81.0% of respondents identified as Orthodox Christians belonging to the Romanian Orthodox Church. Other denominations include Protestantism (6.2%), Roman Catholicism (4.3%), and Greek Catholicism (0.8%). From the remaining population, 195,569 people belong to other Christian denominations or have another religion, which includes 64,337 Muslims (mostly of Turkish and Tatar ethnicity) and 3,519 Jewish (Jews once constituted 4% of the Romanian population—728,115 persons in the 1930 census). Moreover, 39,660 people have no religion or are atheist, whilst the religion of the rest is unknown.
The Romanian Orthodox Church is an autocephalous Eastern Orthodox Church in full communion with other Orthodox churches, with a Patriarch as its leader. It is the fourth-largest Orthodox Church in the world,[366] and unlike other Orthodox churches, it functions within a Latin culture and utilises a Romance liturgical language.Its canonical jurisdiction covers the territories of Romania and Moldova.
Economy
DIn 2019, Romania has a GDP (PPP) of around $547 billion and a GDP per capita (PPP) of $28,189. According to the World Bank, Romania is a high-income economy. According to Eurostat, Romania's GDP per capita (PPS) was 69% of the EU average (100%) in 2019, an increase from 44% in 2007 (the year of Romania's accession to the EU), making Romania one of the fastest growing economies in the EU.
After 1989 the country experienced a decade of economic instability and decline, led in part by an obsolete industrial base and a lack of structural reform. From 2000 onward, however, the Romanian economy was transformed into one of relative macroeconomic stability, characterised by high growth, low unemployment and declining inflation. In 2006, according to the Romanian Statistics Office, GDP growth in real terms was recorded at 7.7%, one of the highest rates in Europe. However, a recession following the global financial crisis of 2008–2009 forced the government to borrow externally, including an IMF €20 billion bailout program. According to The World Bank, GDP per capita in purchasing power parity grew from $13,687 in 2007 to $28,206 in 2018. Romania's net average monthly wage increased to 666 euro as of 2020, and an inflation rate of −1.1% in 2016. Unemployment in Romania was at 4.3% in August 2018, which is low compared to other EU countries.
Industrial output growth reached 6.5% year-on-year in February 2013, the highest in the Europe.[288] The largest local companies include car maker Automobile Dacia, Petrom, Rompetrol, Ford Romania, Electrica, Romgaz, RCS & RDS and Banca Transilvania. As of 2020, there are around 6000 exports per month. Romania's main exports are: cars, software, clothing and textiles, industrial machinery, electrical and electronic equipment, metallurgic products, raw materials, military equipment, pharmaceuticals, fine chemicals, and agricultural products (fruits, vegetables, and flowers). Trade is mostly centred on the member states of the European Union, with Germany and Italy being the country's single largest trading partners. The account balance in 2012 was estimated to be 4.52% of GDP.
After a series of privatizations and reforms in the late 1990s and 2000s, government intervention in the Romanian economy is somewhat less than in other European economies. In 2005, the government replaced Romania's progressive tax system with a flat tax of 16% for both personal income and corporate profit, among the lowest rates in the European Union. The economy is based predominantly on services, which account for 56.2% of the country's total GDP as of 2017, with industry and agriculture accounting for 30% and 4.4% respectively. Approximately 25.8% of the Romanian workforce is employed in agriculture, one of the highest rates in Europe.
Romania has attracted increasing amounts of foreign investment following the end of Communism, with the stock of foreign direct investment (FDI) in Romania rising to €83.8 billion in June 2019. Romania's FDI outward stock (an external or foreign business either investing in or purchasing the stock of a local economy) amounted to $745 million in December 2018, the lowest value among the 28 EU member states.
According to a 2019 World Bank report, Romania ranks 52nd out of 190 economies in the ease of doing business, one place higher than neighbouring Hungary and one place lower than Italy. The report praised the consistent enforcement of contracts and access to credit in the country, while noting difficulties in access to electricity and dealing with construction permits.
Since 1867 the official currency has been the Romanian leu ("lion") and following a denomination in 2005. After joining the EU in 2007, Romania is expected to adopt the Euro in 2024.
In January 2020, Romania's external debt was reported to be US$122 billion according to CEIC data.
Tourism
Tourism is a significant contributor to the Romanian economy, generating around 5% of GDP. The number of tourists has been rising steadily, reaching 9.33 million foreign tourists in 2016, according to the Worldbank.Tourism in Romania attracted €400 million in investments in 2005. More than 60% of the foreign visitors in 2007 were from other EU countries.The popular summer attractions of Mamaia and other Black Sea Resorts attracted 1.3 million tourists in 2009.
Most popular skiing resorts are along the Valea Prahovei and in Poiana Brașov. Castles, fortifications, or strongholds as well as preserved medieval Transylvanian cities or towns such as Cluj-Napoca, Sibiu, Brașov, Bistrița, Mediaș, Cisnădie, or Sighișoara also attract a large number of tourists. Bran Castle, near Brașov, is one of the most famous attractions in Romania, drawing hundreds of thousands of tourists every year as it is often advertised as being Dracula's Castle.
Rural tourism, focusing on folklore and traditions, has become an important alternative,and is targeted to promote such sites as Bran and its Dracula's Castle, the painted churches of northern Moldavia, and the wooden churches of Maramureș, or the villages with fortified churches in Transylvania.Other attractions include the Danube Delta or the Sculptural Ensemble of Constantin Brâncuși at Târgu Jiu.
In 2014, Romania had 32,500 companies active in the hotel and restaurant industry, with a total turnover of €2.6 billion.More than 1.9 million foreign tourists visited Romania in 2014, 12% more than in 2013. According to the country's National Statistics Institute, some 77% came from Europe (particularly from Germany, Italy, and France), 12% from Asia, and less than 7% from North America.
Currency
The Romanian leu is the currency of Romania. It is subdivided into 100 bani, a word that also means "money" in Romanian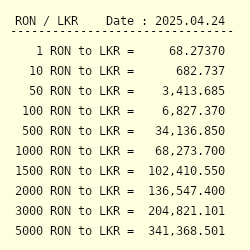 Job Offer
I declare that I have read and educated myself about Romania before accepting job offer.